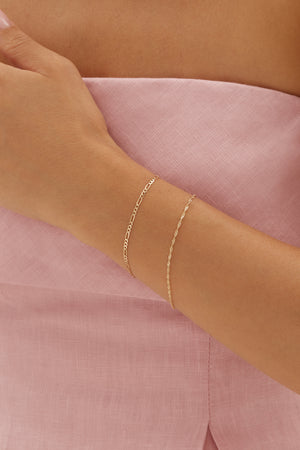 Twenty Compass is now offering welding bracelet service at our store in Carrefour Laval and Montreal Showroom!
Also known as Forever Bracelet, these permanent bracelets are welded to your wrist - making you shine for a lifetime. Our Solid Gold and Sterling Silver Chains were perfectly selected to withstand the test of time. 
Whether it's to celebrate a milestone, a relationship or simply to hop on this trend you saw on TikTok, getting yourself a permanent bracelet is such a fun experience.
How it works
Get measured for the perfect fit.
 Let our Specialist weld it directly onto your arm with a small spark.
Show off your new bracelet to everyone.
2 Locations
SHINE STUDIO
Carrefour Laval 3035 Boul. le Carrefour, local R031A, Laval
Montreal Showroom 4000 rue St-Ambroise, Suite 397, Montreal
Yes! Our warranty is here to make your experience unmatched. It means we're here for you, and you don't have to worry about being let down.
We stand by the quality of our jewelry and we are proud to offer a 1 year warranty.
If your bracelet breaks within 1 year, we will weld it again, free of charge.
After the warranty period, we can weld the bracelet at a cost of $5.
Yes, we have a selection of charms that you can choose in store. The price ranges from $35 to $55 for each charm.
Yes, for an additional $50 in 10k solid gold and $25 in sterling silver.
We can cut it for you and you have the option to have the bracelet welded again at a cost of $5.
We do not recommend cutting it on your own to prevent damage to the bracelet.
No not at all! There is no contact with the skin.
Approximately 15 minutes!
No! The price depends on the selected style.
Can't find the answer you're looking for? Contact us at info@twentycompass.com